Truck - bus - machine
TRUCKS AND BUSES
Transport or construction company, garage, government agency or insurance company?
We are happy to help!
With our extensive fleet of tow trucks and additional equipment, we can carry out an appropriate salvage or towing for any intervention.
With our many years of experience, we are available 24/7 at home and abroad.
We aim for 100% satisfaction and above all for damage-free towing.

BREAKDOWN ASSISTANCE
As soon as we are called, we look at how the situation can be resolved as quickly and efficiently as possible. For every problem, we look for the most appropriate solution.
As a transport and depot company, we have all the knowledge and equipment you need to relieve you of all your worries.

REPATRIATION
We repatriate your bus or truck with or without a trailer back to the desired location.
We provide transport of your replacement truck or offer you one on low loader.
Is your truck irreparable or badly damaged?
Our low loader with movable ramps and attachments will take your vehicle to the desired location.
We can also help you with transferring your load to the replacement truck.

INTERNATIONAL REPATRIATION
With more than 30 years of experience, we have built an extensive network throughout the Benelux countries, France, Germany and Switzerland. This allows us to provide you with a smooth service.
Our dispatch officer closely monitors your intervention and continuously informs you of the actions taken.
Our selected partners are also closely monitored and evaluated.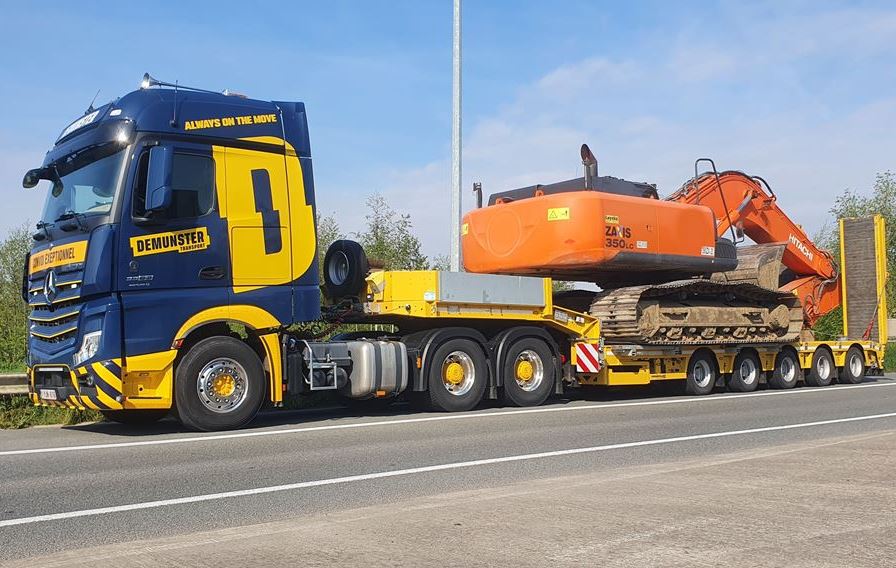 Machines
Several machine rental companies
on our long-standing service for the collection and
disposal of machines.
With our specialised equipment, we can retrieve your tilted machine.
F.A.S.T.-PARTNER
Demunster is a recognised F.A.S.T. partner (Tackling Traffic jams through Rapid Intervention)
of the Flemish Government for the South West Flanders region for trucks.
In the event of incidents on the motorway, we arrive at the scene as quickly as possible with a signalling vehicle and tow truck.